Details
Just Mallet
• Heavy duty steel platform bed frame, a refined yet modern piece for the bedroom
• Non-slip taped wooden slats, no box spring needed
• Slats are placed less than 3 inches apart to prevent sagging and enhance mattress life
• Foam noise-free padding
• 15.5" under bed clearance for convenient storage
• Easy assembly in minutes, with a mallet included to help secure parts
Materials & Certifications
• TSCA Title VI certified wood
• 100% Steel Mill Test
Dimensions
Twin 74.5"L x 38"W x 18"H
Full 74.5"L x 53.5"W x 18"H
Queen 79.5"L x 59.5"W x 18"H
King 79.5"L x 75.5"W x 18"H
Warranty
5-year manufacturer's warranty
Register your product here for more details.
Just Mallet: 18" from M E L L O W
Life's mellow when the only tool you need to set up a platform bed is a mallet, already included in your package.
The Just Mallet platform bed is made of a premium heavy duty steel with clean edges, giving your space a refined and modern look. Ample space beneath the frame accommodates for extra storage to help keep your room organized. With no box spring needed, easily assemble and place your mattress on top to make a simple yet bold statement.
Easy Assembly
We send you a free rubber mallet, the only tool you will need to put your new bed frame together. It's portable, re-usable and yours to keep!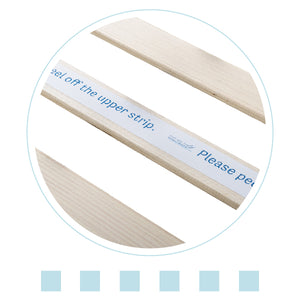 Classic Wooden Slats
Classic wooden slats are designed for easy installation and come with Non-Slip Tapes for stable mattress support. (Make sure to only peel off the top vinyl strip and not the whole tape!)
Built to Last. Quietly.
JustMallet platform beds are constructed with 100% premium heavy duty steel to stand the test of time and engineered to be noise-free.
*Mill Test Certificate No. KG189031 tested & granted in accordance with requirement by GreenTech 2018