Details
MARLEY
• Real Acacia wood bed frame with natural open grains
• Modern paneled headboard design
• Velvet padded, non-slip taped wooden slats, no box spring needed
• Easy assembly with no additional tools needed
• 10" under bed clearance
Materials & Certifications
• TSCA Title VI certified wood
Dimensions
Twin 74.5"L x 38"W x 14"H
Full 74.5"L x 53.5"W x 14"H
Queen 79.5"L x 59.5"W x 14"H
King 79.5"L x 75.5"W x 14"H
Warranty
5-year manufacturer's warranty
Register your product here for more details.
MARLEY by Mellow
MARLEY is an eye catcher with its solid wooden presence and beautiful Ebony Black finish. It's designed to bring your room a modern, sophisticated look, while providing a strong foundation for you and your mattress. We've made sure to pay close attention to details, so you can enjoy every moment with MARLEY, from delivery, to setup and beyond.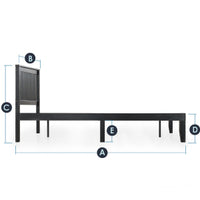 Product Dimensions A x B x C x D x E
Twin - 74.5" x 38" x 37" x 14" x 10.5"
Full - 74.5" x 53.5" x 37" x 14" x 10.5"
Queen - 79.5" x 59.5" x 37" x 14" x 10.5"
King - 79.5" x 75.5" x 37" x 14" x 10.5"
Authentic Wood
MARLEY is made with real, authentic wood for sturdy support, strength and durability, and finished in an elegant Ebony Black.
Noise-Free Padding
Velvet lining between the center bar and wooden slats provides noise-free padding for a quiet, restful night.
Ready Steady Slats
Solid wooden slats with non-slip tape will help keep your mattress safely in place, no box spring needed!
Steel Support
The solid wooden frame and legs are backed with additional steel legs to create the ultimate platform bed. (Not included for Twin size)
Under Bed Storage
Make the most use of your bedroom space with a high profile design and 10.5 inches of under bed clearance.
Easy Assembly
Enjoy quick and easy assembly with everything you need included in the package, no additional tools required.