Details
Naturalista Classic
• Mid-century modern bed frame with a 3.5-inch solid wooden frame designed for durability and support
• Noise-free construction with natural wood grains and a simple silhouette
• Non-slip taped wooden slats, no box spring needed
• Easy assembly in minutes, all tools included
Materials & Certifications
• TSCA Title VI certified wood
Warranty
5-year manufacturer's warranty
Register your product here for more details.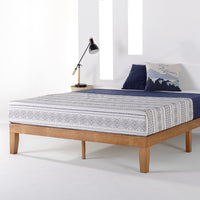 Naturalista Classic from M E L L O W
M E L L O W's answer to those looking for a platform bed that's organic and natural in looks and sturdy in structure.
Naturalista Classic platform bed is a stable and durable wooden platform bed with classic wooden slats that requires no plywood or box spring at all. It will add organic and rustic charm your bedroom with its natural wood grains and simple silhouette. Now go get an amazing night's sleep, wake up refreshed, enjoy your day and repeat.
Non-slip tapes included
Having the mattress slide side to side is no fun! That's why we include two non-slip tapes to ease your bedtime routine. Oh yes, we're That thoughtful.
Solid Wood - No Box Spring Needed!
We know. A solid wood platform bed at this price sounds too good to be true. Well, let us tell you it is True! This bed is made with 100% solid wood. What's more, it is a complete mattress support system without the need for a box spring.
Ready & Easy to Assemble
Naturalista platform bed comes in parts that are ready & easy to assemble. Easy-to-follow instruction sheet included and no additional tools required for assembly.
Naturalista Classic : Pine 12"