Details
• Made in USA
• Cooling cover helps keep the heat away with a fabric that's cool to the touch
• Gel-infused memory foam reduces trapped heat for cool and refreshing sleep
• Quilted top with tufting for ultimate comfort without the need for another mattress pad
• Easy to move handles along the sides
• Anti-slip bottom keeps your mattress in place
Materials & Certifications
• CertiPUR-US® certified
• foamOEKO-TEX® certified fabric
Warranty
• 10-year manufacturer's warranty
• Register your product here for more details.
A mattress that's cool, inside out
Meet our OLAF gel memory foam mattress, the perfect solution to keep you cool and refreshed with a gel infusion that mediates against trapped body heat and a cooling fabric. OLAF is designed for your comfort with a quilted pillow top that has just the right amount of tufting for a welcoming embrace as you lie down.
Cool on the INSIDE
Gel infusion in the memory foam helps prevent your body heat from being trapped as you sleep. Wake up every day feeling fresh and rejuvenated!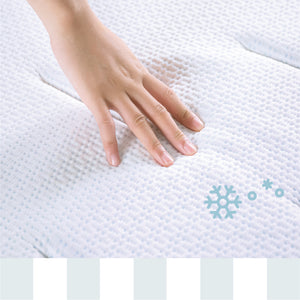 Cool on the OUTSIDE
Our unique top is made with a special fabric using technical cooling yarnthat's actually cool to the touch.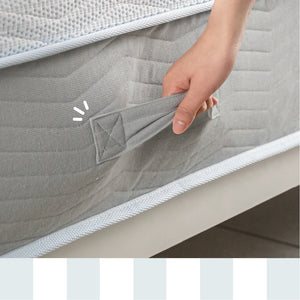 Handy Pull Bars
Easily adjust the mattress on your bed frame, even after it's fully inflated, with handles located along the side.
Anti-Slip Bottom
The anti-slip bottom helps keep your mattress in place, making it the perfect mattress for any bed base or frame.
The Snowcloud Top
Sleep Mellow with a special cooling Cloud Top filled with air foam and fiber for deep sleep and absolutely no need for a separate mattress pad. Our Snowcloud is made with a technical fabric that's cool to the touch, an irresistible feature for those looking for a cooling mattress. Rest assured knowing our mattresses are finished off with an OEKO-TEX certified cover, tested against a long list of substances known or suspected to harm health.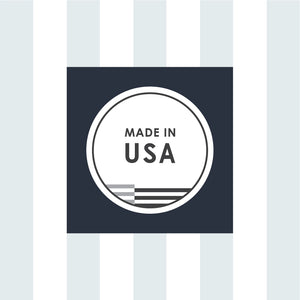 Crafted in the US
Our Cloud Top collection mattresses use premium foams made here in the USA. Each mattress is crafted with care in the U.S. of U.S. and imported parts.
Certified Eco Cover
Our mattress covers are certified against a long list of substances known or suspected to harm health.
*SHKO 087392 TESTEX granted by OEKO-TEX Association in 2018.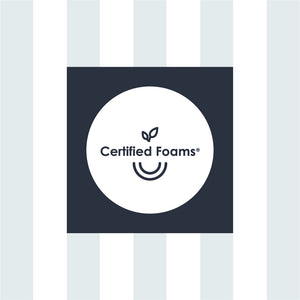 Tested & Proven
All our foams are tested and certified to meet CertiPUR-US* standards for lasting performance, indoor emissions & environmental stewardship.
*Issued by CertiPUR-US program of the Alliance for Flexible Polyurethane Foam in 2019.
OLAF Gel Snowcloud Top Memory Foam Mattress with Cooling Fabric, Made in USA : 14"